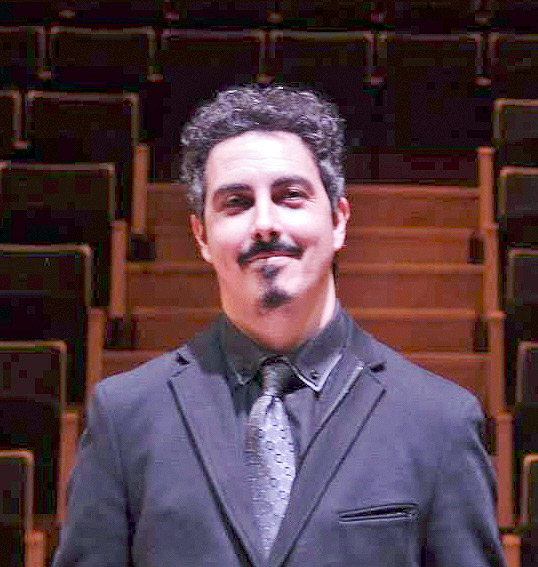 Compositor - pianista y Gestor Cultural argentino, nacido en 1979 en la Ciudad de Buenos Aires. Realizo su formación académica; en el Conservatorio de la homónima Ciudad y en la Universidad Nacional de las Artes, con desarrollo en el campo de la composición, piano y música de cámara.
Su lenguaje compositivo transita una estética de contenido neo-romántico /impresionista. Mantiene especial interés en recuperar el lirismo melódico en sus construcciones temáticas, y el retorno a las grandes formas, tales como: la Sinfonía, el Concierto, la Sonata. Con una mirada actual y contemporánea.
Sus obras se han estrenado en diferentes Países del Mundo: Italia- España- Polonia- Portugal-USA- Brasil- México- Chile- Ecuador- Reino Unido-Cuba- Austria, en importantes teatros de su país y de otros continentes. Tanto en festivales internacionales como en encargos para orquestas de Europa y América Latina. Su catálogo incluye composiciones para piano - música de cámara con diferentes orgánicos, obras sinfónico corales y concertantes.
Artista de las Cadenas: Allegro Hd Euro channel – Selecta Tv Latinoamérica. Radio Nacional Clásica Argentina.
- Director ejecutivo del Proyecto internacional "New music of the américas" consort de compositores latinoamericanos, para la difusión de nuevas obras en formato cámaristico, en las tres américas. Dos discos editados, el primero en Philadelphia-USA por el sello wintercat records, el segundo próximamente en Argentina por la destacada discográfica Acqua Records.
-Director General del proyecto "Consonancias" corredor sinfónico Latinoamericano que nuclea orquestas de Latinoamérica, para la difusión de Nueva obras creadas por compositores vivientes de esa región. En 2022 se inicia, con una serie de Conciertos en Brasil y Argentina. El Desarrollo futuro involucrara un ciclo de conciertos anual y la incorporación de orquestas de otras regiones pertenecientes a las tres Américas (NORTE-CENTRAL Y SUR).
Premiado en 2021 por Mecenazgo cultural, proyecto seleccionado por el Ministerio de Cultura de la Ciudad de Bs As. La propuesta consiste en la grabación de un disco de Cámara integrado por obras de 6 compositores vivientes argentinos, incluirá una obra estreno de su Autoría. El disco llevara el título de "Nuevas Músicas para Buenos Aires" homenajeando la ciudad.
Director artístico del Plan federal de Orquestas Argentinas propulsado por la Asociación argentina de Compositores, ciclo anual de conciertos que difunde la música sinfónica argentina en todo el país.
Ganador del fondo Nacional "Argentina Florece" otorgado por el Instituto Nacional de la música (INAMU) organismo perteneciente al Ministerio de Cultura de la Nación Argentina, para grabar el segundo Álbum de Cámara para el proyecto New music of the Américas, con obras de compositores vivientes Latinoamericanos. El disco fue grabado en abril y será editado y lanzado en noviembre del 2022 por el importante sello argentino Acqua records. Bajo el título de "Estampas Americanas" Interpretado por solistas de la Orquesta Estable del Teatro Colon e Integrantes de la Orquesta Sinfónica Nacional Argentina, Paula Peluso en piano- Gustavo Mule en violín - Stanimir Todoroff en Cello. El disco incluirá una obra estreno de su autoria escrita especialmente para el trio.
Galadornado con el Premio Nacional Clásica ( otorgado por autoridades de Radio Nacional clásica-argentina ) , edición 2022- en la Categoría "Compositor Revelación"- en Buenos Aires- Argentina.
Durante la temporada 2022 será compositor "residente" de la Universidad del Norte de Colorado USA, donde impartirá clases magistrales en las carreras de composición e interpretación. La universidad le comisiono una obra "estreno" para ser interpretada por la Wind symphonic orchestra con dos conciertos en el mes de la "Hispanic heritage" celebración de la cultura hispánica, como cierre de su residencia. Proyecto Bajo la dirección del destacado maestro Dr. Wesley Broadnax. Premier Overture America para symphonic band.
---
Mauricio Charbonnier (English bio)
Argentine Composer and pianist.

Composer - pianist and Argentine Cultural Manager, born in 1979 in the City of Buenos Aires. I carry out his academic training; at the Conservatory of the homonymous City and at the National University of Arts, with development in the field of composition, piano and chamber music.
His compositional language transits an aesthetic of neo-romantic/impressionist content. He maintains special interest in recovering melodic lyricism, harmonic color and the use of great formal archetypes of the tradition: Symphony, Concerto, Sonata. With a current look.
His works have been premiered in different countries of the world:
Italy- Spain- Poland- Portugal- USA- Brazil- Mexico- Chile- Ecuador- United Kingdom- Cuba- in important theaters of his country and other continents. Both in international festivals and commissions for orchestras in Europe and Latin America. His catalog includes compositions for piano - chamber music with different organics, symphonic choral and concertante works.
Network Artist: Allegro Hd Euro channel – Selecta Tv Latin America. Argentine National Classical Radio.
- Executive director of the international project "New music of the Americas" consort of Latin American composers, for the dissemination of new works in chamber music format, in the three Americas. Two albums released, the first in Philadelphia by the wintercat records label, the second very soon in Argentina by the prominent label Acqua Records.
@-Artistic director of the National Federal Plan for Argentine orchestras- by the Argentine Association of Composers (founded in 1915). Project that brings together orchestras from different Argentine provinces, for the dissemination in concert of works from the Argentine symphonic repertoire, current and past. A cycle that will contain the participation of 8 orchestras and 15 concerts.
-General Director of the "Consonancias" project, a Latin American symphonic cycle, that brings together orchestras from Latin America, for the dissemination of New Music by living composers from that region. In 2022 it begins, with a series of concerts in Brazil and Argentina. Future development will involve an annual cycle of concerts and the incorporation of orchestras from other regions belonging to the three Americas (NORTH-CENTRAL AND SOUTH).
Awarded in 2021 by Cultural Patronage, a project selected by the Ministry of Culture of the Buenos Aires city. The proposal consists of the recording of a Chamber music album made up of works by 6 living Argentine composers, it will include a premiere work of its Authorship. The album will bear the title of "New Music for Buenos Aires" honoring the city.
Winner of the National Classic Award (National Classical Radio-Argentina), 2022 edition- in the Category "Revelation Composer"- in Buenos Aires- Argentina.
Winner of the National Fund "Argentina Florece" awarded by the National Institute of Music (INAMU), an agency belonging to the Ministry of Culture of the Argentine Nation, to record the second Chamber Album for the New music of the Americas project, with works by composers living Latin Americans. The album was recorded in April and will be edited and released in November 2022 by the important Argentine label Acqua records. Under the title of "Estampas Americanas" american portrait- Performed by soloists of the Colon theater Orchestra and Members of the Argentine National Symphony Orchestra, Paula Peluso in piano - Gustavo Mule in violin - Stanimir Todoroff in Cello.
During the 2022 season he will be a "resident" composer at the University of Northern Colorado USA, where he will give master classes in composition and performance careers. The university commissioned him a "premiere" work to be performed by the Wind symphonic orchestra with two concerts in the month of the "Hispanic heritage" celebration of Hispanic culture, as the closing of his residence. Project Under the direction of outstanding teacher Dr. Wesley Broadnax. Premier Overture America for symphonic band.
Ha colaborado con orquestas de distintas partes del mundo, con encargos y estrenos en América y Europa (orchestras¨s collaboartions):
USA - Wind Symphonic Orchestra /Colorado. Premiere Overture america- commissioned By University of Northen Colorado- Composer in residence 2022.Estreno en Colorado- USA. Obertura America. Compositor en Residencia temporada 2022.
MEXICO - Orquesta Sinfónica de Chiapas - Romanza para clarinete y orquesta estreno en México. Agosto 2022. Teatro de la Ciudad Emilio Rabasa.
ECUADOR - Orquesta Sinfónica de Cuenca, Romanza para clarinete y orquesta estreno en Ecuador. Julio 2022. Teatro Casa de la cultura.
BRASIL - Orquesta Sinfónica de Paraíba, Brasil. Estreno mundial Romanza para clarinete y orquesta. Mayo 2022. Teatro José Siqueira.
ARGENTINA - Orquesta Sinfónica de Chaco. Estreno en argentina Romanza para clarinete y orquesta. Mayo 2022. Teatro la Máscara.
CORDOBA - Orquesta municipal de cuerdas Córdoba, Argentina- Nocturno Para clarinete y orquesta, estreno en Córdoba. Julio 2022. Dos conciertos: Auditorio de Radio nacional - Auditorio Diego de Torres de la Universidad Católica.
MEXICO - Orquesta Sinfónica J. de Zapopan Guadalajara-México concierto temporada 2021 auditorio del Centro Cultural Constitución.
CHILE - Orquesta Sinfónica J. de Antofagasta (Chile, gira de 4 conciertos, casco histórico, catedral de la ciudad, teatro municipal y mano del desierto) temporada 2018.
ESPAÑA - Orquesta Sinfónica Castvlum (España, dos conciertos en la Hermita de Linarejos para el estreno de su Concierto para clarinete). Conservatorio de música de Granada. Temporada 2019.
BRASIL - Orquesta Sinfónica UFBA (Brasil, dos conciertos en la apertura de temporada 2020 ) nocturno para orquesta.
ARGENTINA - Orquesta filarmónica de la provincia de Rio Negro-argentina. Estreno obra temporada 2022
Ha colaborado con los siguientes solistas y grupos de cámara, en estrenos alrededor del mundo y participando en festivales internacionales (chamber music"s collaboartions / festivals):
Edua Zadory - Violinista Húngara, solista de la orquesta de Cámara de Viena.
Giovanni De luca- Saxophonista (festival de primavera Salerno, Italia, junio 2022) Premiere Rapsodia in Italy- Salerno City- Commision.
Samuel Marques - clarinetista Portugués, (conciertos Boas festas, ciudad Aveiro 2022) Premiere in Portugal (nocturne)- Europe.
Nicola Cotugno - clarinetista Italiano (festival Traetta Opera festival, Bari-Italia edición 2021) Premiere in Italy (nocturne for clarinet) - Bari Festival.
Andrés Mejido - clarinetista español ( festival "Clarinetissimo" en Bélgica edición 2019). Belgium- Europe clarinet festival.
Hudson Ribeiro -clarinetista brasileño, solista de la Orquesta Sinfónica de la UFBA, Brasil.
Alphonso Melo Silveira -clarinetista Brasileño-portugués , Solista de la Orquesta Sinfónica Paraiba. Brasil.
Martin Castillos - clarinete solista de la Orquesta Filarmónica de Montevideo, Uruguay.
Quartet 21 - cuarteto de saxofones, ( Premiere in Reino Unido, Cardiff),
Ensemble Cuatro Saxos (Santiago de Chile),
Trío Capriccious -México, Centro de Investigación Musical de la Universidad de la Buap.
Dominika Zamara soprano polaca – Premiere in Poland- Estreno Ciclo de Canciones Sagradas en la Ceremonia del festejo por el centenario del nacimiento papa Juan Pablo II, Polonia, transmitido por la televisión pública polaca para todo el país.
Maykel Iglesias Director Coral (Festival a Tempo Con Caturla, Cuba- edición 2020.)
Daniel Olivera Clarinetista Brasileño (festival de composición musical virtual "Música en pandemia", Brasil - edición 2020).
María Eugenia Caretti soprano, integrante del coro polifónico Nacional. Argentina.
Dúo Románticos Argentinos Melina Marcos-Pianista - junto Edua Zadory- violin Concierto Usina del arte Bs As, Argentina.
Duo Edua Zadory violin – Anastasia Dombrovska Grecia- Austria, Festival en Skiathos.
Duo Amie – Jullie Reimann Cello- Ellyses Kuan piano. Chamber music concert in Boston-USA.
---
PRESENTACION DEL DISCO "ESTAMPAS AMERICANAS" 2022
---
Proyecto internacional New Music of the America fundador y Director (2019 a la actualidad):
New Music of the Americas. With works by Mauricio Charbonnier, Leonardo Le San, Astor Piazzolla, Carlos Guastavino and Alberto Ginastera. The album proposes a description of the aesthetics, languages and rhythms of the American Region, of actual composers together with great references of the 20th century.
New CD: New Music of the Americas Album
With works by Mauricio Charbonnier, Leonardo Le San, Astor Piazzolla, Carlos Guastavino and Alberto Ginastera, the album proposes a description of the aesthetics, languages and rhythms of the American Region, especially Argentina.
This album frames the first record release of the New Music of the Americas project, titled with the same name. It includes a repertoire of academic chamber works created by renowned Argentine composers of the 20th century and also with new works by actual composers.
In its content the album proposes a series of pieces whose musical writing has a marked romantic content, simplicity, clarity in the formal and a particular interest in melodic beauty. The CD is available in digital format and free on all online platforms.
The material involves two lines of work: on one hand, the selection of emblematic twentieth century American authors and nationalist content such as Alberto Ginastera, Carlos Guastavino and Astor Piazzolla. On the other hand, you will be able to hear some new works by the Argentine composer Mauricio Charbonnier and his Colombian counterpart, Leonardo Le San.
Website to listen to the album on all platforms and view content:
---
Redes Sociales personales Mauricio Charbonnier Compositor:
Facebook IG: Youtube Channel: Linkedin:
Ensamble de Cámara Argentino Nuevo Romanticismo (2011 a la Actualidad):