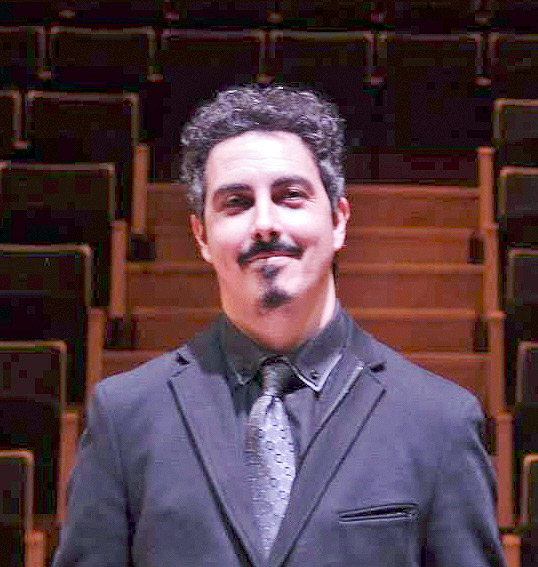 Compositor y pianista argentino radicado en la Ciudad de Buenos Aires, realizo su formación académica y se graduó en el Conservatorio de la homónima Ciudad y en la Universidad Nacional de Arte, con desarrollo en el campo de la composición, piano y música de cámara. Su formación interpretativa estuvo vinculada al estudio de autores muy diversos del repertorio barroco, clásico y romántico con especial interés en autores Argentinos, Germanos y franceses. Su lenguaje compositivo es esencialmente tonal: tiene un interés especial en recuperar los grandes arquetipos formales del pasado: la sinfonía, el concierto, la sonata. Sus obras denotan un sofisticado lirismo con un marcado contenido emocional romántico, y cierto color armónico vinculado a la música francesa. Su búsqueda estética no pretende desvincularse de la tradición musical occidental, pero no por esto, dejar de lado la búsqueda de una identidad y un sello personal. Su estilo compositivo aparece muchas veces ligado a un Neo-Romanticismo. Como amante de la música europea, la influencia de la ópera italiana también ha marcado su concepción creativa, se puede ver su obsesión por lograr "la gran línea" que fue propugnada por los maestros italianos.
Sus obras se han estrenado en importantes teatros de su país y del mundo, tanto en festivales internacionales como en encargos para orquestas de Europa y América Latina. Su catálogo incluye composiciones para piano y música de cámara, para diferentes formaciones, también obras sinfónicas corales y obras concertantes para distintos solistas (clarinete, violín, piano y otros). Es un ferviente admirador de la canción de cámara romántica, y posee un ciclo dentro de este género, inspirado en textos religiosos, titulado "Canciones Sagradas" (para soprano y piano), que fue estrenado en un concierto homenaje por el centenario del nacimiento del Papa Juan Pablo II, en Polonia, bajo el auspicio de la Fundación Vaticano y trasmitido en directo por la televisión nacional Polaca, en mayo 2020.
Sus obras han sido interpretadas por las siguientes agrupaciones: Orquesta Académica Antofagasta (Chile, gira de seis conciertos en el estreno mundial de su Rapsodia para bandoneón y orquesta), Orquesta Sinfónica Castvlum (España, dos conciertos en la Hermita de Linarejos para el estreno de su Concierto para clarinete), Orquesta Sinfónica UFBA (Brasil, dos conciertos en la apertura de temporada 2020), Orquesta Sinfónica de la Universidad Nacional de Arte (2019 Argentina, Concierto de Fin de Año, Ciudad de Buenos Aires).
Ha colaborado con los siguientes solistas y grupos de cámara en estrenos y festivales internacionales: Andrés Mejido (clarinetista español, festival "Clarinetissimo" en Bélgica), Hudson Ribeiro (clarinetista brasileño, solista de la Orquesta Sinfónica de la UFBA), Alphonso Melo Silveira (clarinetista portugués, Universidad de Evora), Martin Castillos (clarinete solista de la Filarmónica de Montevideo, Uruguay), Gloria Berner (soprano chilena, Teatro Antofagasta), Cuarteto 21 (cuarteto de saxofones, Reino Unido, Cardiff), Ensemble Cuatro Saxos (Santiago de Chile), Trío Capriccious (México, Centro de Investigación Musical de la Universidad del Buap).
Miembro de la Asociación de Compositores Argentinos, es fundador del proyecto colaborativo New Music of the Americas, orientado a divulgar la música académica de autores contemporáneos de la región, integrado junto con el multipremiado compositor y pianista de Philadelphia de origen colombiano Leonardo Le San. También es director musical del ensamble de cámara argentino Nuevo Romanticismo desde 2011.
Recientemente, en Agosto de 2020, se ha editado el último registro en audio y video de este proyecto conjunto, bajo el titulo "La nueva música de las Américas" primer álbum del proyecto , que involucra la grabación de obras de cámara de su autoría, junto a un repertorio de músicas argentinas y latinoamericanas con obras de Piazzolla, Guastavino, Ginastera y Le San este trabajo discográfico fue aceptado para competir en la votación de los premios Grammys Americanos 2020 en búsqueda de una nominación en la categoría "Mejor Compendio Clásico". La filmación de este reciente trabajo es emitida por la plataforma de música clásica Selecta TV y el Canal Allegro Hd Eurochannel, para sus miles de suscriptores en América Latina y los Estados Unidos. Sus obras han sido transmitidas también por Radio Nacional Clásica Argentina, donde también fue entrevistado en varios segmentos dedicados a compositores argentinos.
---
Mauricio Charbonnier (English bio)
Argentine Composer and pianist.

Argentine composer and pianist based in Buenos Aires city, he completed his academic training and graduated from the Conservatory of the same city and from the National University of Art, with development in the field of composition, piano and chamber music. His interpretive training was linked to the study of very diverse authors from the baroque, classical and romantic repertoire with special interest in Argentine, German and French authors. His compositional language is essentially tonal: he has a special interest in recovering the great formal archetypes of the past: the symphony, the concert, the sonata. His works denote a sophisticated lyricism with a marked romantic emotional content, and a certain harmonic color linked to French music. His aesthetic search does not intend to disassociate himself from the western musical tradition, but not for this reason, to leave aside the search for an identity and a personal stamp. His compositional style appears many times linked to a Neo-Romanticism. As a lover of European music, the influence of Italian opera has also marked his creative conception, you can see his obsession with achieving "the great line" that was advocated by the Italian masters.
His works have been premiered in important theaters in his country and around the world, both in international festivals and in commissions for orchestras in Europe and Latin America. Its catalog includes compositions for piano and chamber music, for different ensembles, also choral symphonic works and concert works for different soloists (clarinet, violin, piano and others). He is a fervent admirer of the romantic chamber song, and has a cycle within this genre, inspired by religious texts, entitled "Sacred Songs" (for soprano and piano), which was premiered in a tribute concert for the centenary of the birth of the Pope John Paul II, in Poland, under the auspices of the Vatican Foundation and broadcast live on Polish national television, in May 2020.
His works have been performed by the following groups: Antofagasta Symphony Orchestra (Chile, tour of six concerts in the world premiere of his Rapsodia for bandoneon and orchestra), Castvlum Symphony Orchestra(Spain, two concerts at the Hermita de Linarejos for the premiere of his Clarinet Concert), UFBA Symphony Orchestra (Brazil, two concerts in the 2020 season opening), National University of Art Symphony Orchestra (Argentina, New Year's Eve Concert, City of Buenos Aires).
He has collaborated with the following soloists and chamber groups in international premieres and festivals: Andrés Mejido (Spanish clarinetist, Belgium's "Clarinetissimo" festival), Hudson Ribeiro (Brazilian clarinetist, soloist of the UFBA Symphony Orchestra), Alphonso Melo Silveira ( Portuguese clarinetist, University of Evora), Martin Castillos (solo clarinet of the Montevideo Philharmonic, Uruguay), Gloria Berner (Chilean soprano, Antofagasta Theater), Cuarteto 21 (saxophone quartet, United Kingdom, Cardiff), Ensemble Cuatro Saxos (Chile ), Trío Capriccious (Mexico, Musical Research Center of the Universidad del Buap).
Member of the Association of Argentine Composers, he is the founder of the collaborative project New Music of the Americas, aimed at disseminating the academic music of contemporary authors from the region, together with the multi-award winning composer and pianist from Philadelphia of Colombian origin Leonardo Le San. Charbonnier is the current musical director of the argentine chamber music ensemble New Romanticism , 9 seasons ago.
Recently, in august 2020, the last audio and video record of this joint project was published, under the title "The new music of the Americas", which involves the recording of chamber works of his own, along with a repertoire of Argentine and Latin American music with works by Piazzolla, Guastavino, Ginastera and Le San. The filming of this recent work is broadcast by the classical music platform SelectaTV and Allegro tv Eurochannel, for its thousands of subscribers in Latin America and the United States, The album has been accepted for voting at the American Grammy Awards, to compete for a nomination in the best classical compendium category . His works have also been broadcast by National Classical Radio in Argentine (the most important in the country), where he was also interviewed in various segments dedicated to Argentine composers
---
Proyecto internacional New Music of the America fundador y Director (2019 a la actualidad):
New Music of the Americas. With works by Mauricio Charbonnier, Leonardo Le San, Astor Piazzolla, Carlos Guastavino and Alberto Ginastera. The album proposes a description of the aesthetics, languages and rhythms of the American Region, of actual composers together with great references of the 20th century.
New CD: New Music of the Americas Album
With works by Mauricio Charbonnier, Leonardo Le San, Astor Piazzolla, Carlos Guastavino and Alberto Ginastera, the album proposes a description of the aesthetics, languages and rhythms of the American Region, especially Argentina.
This album frames the first record release of the New Music of the Americas project, titled with the same name. It includes a repertoire of academic chamber works created by renowned Argentine composers of the 20th century and also with new works by actual composers.
In its content the album proposes a series of pieces whose musical writing has a marked romantic content, simplicity, clarity in the formal and a particular interest in melodic beauty. The CD is available in digital format and free on all online platforms.
The material involves two lines of work: on one hand, the selection of emblematic twentieth century American authors and nationalist content such as Alberto Ginastera, Carlos Guastavino and Astor Piazzolla. On the other hand, you will be able to hear some new works by the Argentine composer Mauricio Charbonnier and his Colombian counterpart, Leonardo Le San.
Website to listen to the album on all platforms and view content:
---
Redes Sociales personales Mauricio Charbonnier Compositor:
Facebook IG: Youtube Channel: Linkedin:
Ensamble de Cámara Argentino Nuevo Romanticismo (2011 a la Actualidad):