Fernanda Morello nació en Buenos Aires. Es egresada del Conservatorio Superior de Música "Manuel de Falla" con Medalla de oro, de la Cátedra de Diana Lopszyc.
Se formo en piano con María Fernanda Bruno, en Música de cámara con Juan Kaloustian y en análisis con Valdo Sciammarella. Estudió con Pía Sebastiani, Alicia Hardoy, y con Adela Marshall repertorio para piano y orquesta .Estudió en Nueva York con Ana María Trenchi en 1995 y 1996. Asistió a las clases magistrales de Antonio De Raco, Malcom Trupp, Ralph Votapek, Barry Douglas, Alicia de Larrocha y Byron Jannis entre otros en Buenos Aires y en los Estados Unidos.
Morello desarrolla una intensa actividad concertística : se presenta como solista en Buenos Aires en las más importantes salas, incluyendo la Sala principal del Teatro Colón, y en conciertos para piano y orquesta. Participa asiduamente de festivales y ciclos en varias ciudades de Argentina de los que mencionamos Semana Musical Llao Llao, Invierno Musical Tunquelen, Sinfónica de Bahia Blanca, Ars Nobilis, Ars Contemporánea, Festival de Cámara Mar del Plata, etc. Asimismo esta temporada prevé actuaciones con la Sinfónica de Salta, y la Sinfónica de Rosario.

Se presentó desde 1996 hasta la fecha en Uruguay ,Estados Unidos, España y Alemania .
Ha sido distinguida con la Honorable Mention en el concurso organizado por "Association of Pianists and piano teachers of the Americas " ,de la ciudad de Nueva York .
Gracias a su versatilidad se ha destacado en música de cámara , en música contemporánea y en propuestas de investigación interpretativa ( realizó la primera versión de un concierto para piano y orquesta de Mozart en fortepiano e instrumentos originales, en el Teatro Colón)
Su discografía comprende los "Carnavales" de Robert Schumann- Revista Clásica (1998); "Sin Fronteras " Valses de Satie, Debussy, Chopin, Schumann y Schubert (Gador 1998), "Tango a dos pianos" con el pianista Martín Roig para el sello TMB (1999) "El País de los juguetes" de Francisco Vázquez (IRCO- 2000) y "Premios Edenor" con música argentina contemporánea- Revista Clásica ( 2000), "4 Manos" con Patricia Vila , obras de Debussy, Bizet y Ravel (2001), "2 pianos Shostakovich –Debussy" EMI Classics (2005)

Fernanda Morello forma un dúo estable junto a la pianista Patricia Vila. Juntas han grabado y presentado en los mas prestigiosos ámbitos obras del repertorio original para dos pianos y cuatro manos. Son artistas del sello EMI Classics desde 2005 y han ganado en abril de 2006 el Premio Carlos Gardel como mejor Album de Música Clásica por la obra completa de Debussy y Shostakovich para dos pianos.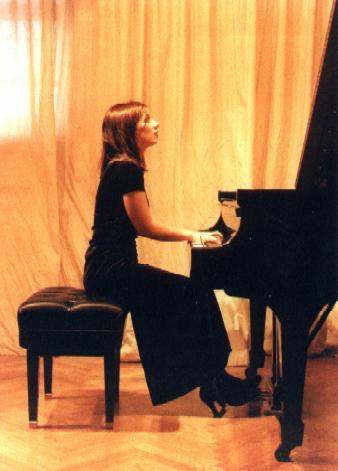 Fernanda Morello was born in Buenos Aires, Argentina. Graduated "Summa cum Laude" from BA Consevatory "Manuel de Falla", she studied with Maria Fernanda Bruno Juan Kaloustian , Pía Sebastiani , Adela Marshall and Diana Lopszyc. In 1995 Morello continued her musical education in New York, coaching with Ana Maria Trenchi (NYU) and in Master Classes of prestigious musicians such as Ralph Votapek, Barry Douglas, Alicia de Larrocha and Byron Jannis among others.

She won the " Honorable Mention" of the International Piano Competition (Professional Category) sponsored by "The Association of Pianists and Piano Teachers of The Americas", New York 1996.

Fernanda Morello performed in every concert hall in Buenos Aires, Argentina, including "Teatro Colon", main hall and "Salon Dorado". She is often a guest in music festivals in her country, such as "Festival Musical LlaoLlao", Bariloche, argentinean Patagonia. In New York she played at Steinway Hall, and in Klavierhaus Manhattan. She also was invited to play and give a Master Class at the "Germaine Pinault School of Music" in Long Island.

Her recordings, often sponsored by musical institutions, include CDs as Schumann Carnaval op9 and op26; Schubert, Debussy and Chopin waltzes selections; Argentinean contemporary composers; "Tango a dos pianos" in two pianos with pianist Martin Roig. In September 2001 , Morello released a new CD of french music for piano duet with pianist Patricia Vila , earning several brilliant critics.

Morello is a very versatile musician: she is also a chamber music pianist, playing in her piano duets, piano quartet and accompanying singers. She feels very comfortable both in 19th and 20th century music. She plays "hammerklavier" for 18th century music - recently Mozart piano concerto K453 at Teatro Colon.

In June 2001 Fernanda Morello played in Madrid, Spain .Future engagements will take her for european tour in 2002-2003 season.

Fernanda Morello
Web: http://www.morellovila.com